Available until April 29th, 2022
The PRR Call "Support for the industry decarbonization" is available until April 29th, 2022. Companies in extractive [IF|SC1] (CAE 05 to 09) and manufacturing industries (CAE 10 to 33), as well as industrial park management entities (Decree-Law no. 232/92) can apply for individual or consortium projects.
Applications must be framed in, at least, one of the following areas:
Energy efficiency and demonstration projects (allowing a minimum of 30% GHG reduction);
Research and innovation processes, technology transfer and cooperation between companies;
Solar renewable: energy*;
Other renewable energies (including geothermal energy);
Smart energy systems (including smart grids and ICT systems) and their storage.

*The installation of electric energy production systems from solar sources for self-consumption is limited to 30% of the total eligible investment amount of the operation, not considering the investment amount itself.
Within the scope of this call, the types of projects that can be applied for, among others, are:
Low carbon processes and technologies:

Replacement of equipment that uses fossil fuels for electrical equipment;
Incorporation of alternative raw materials;
Intelligent solutions to support measurement, monitoring, data processing for the management and optimization of processes;
Digitization of processes in order to guarantee the traceability of products and boost the circular economy.



Energy efficiency measures:

Optimization of engines, turbines, pumping systems and ventilation systems (for example, installation of variable speed drives and replacement of equipment for high energy performance equipment);
Optimization of compressed air systems (eg. air compressor replacement, pressure and temperature reduction and variable speed drives);
Replacement and/or alteration of furnaces, boilers and injectors;
Heat or cold recovery;
Energy management, monitoring and control systems;



Incorporation of energy from renewable sources and energy storage:

Installation of equipment for heat and/or cold production from renewable sources;
Installation of electrical energy production systems from renewable energy sources for self-consumption;
Adaptation of equipment for the use of renewable fuels;
Energy storage systems.
Support will be given in the form of a non-refundable grant, where the maximum support intensity is influenced by its category: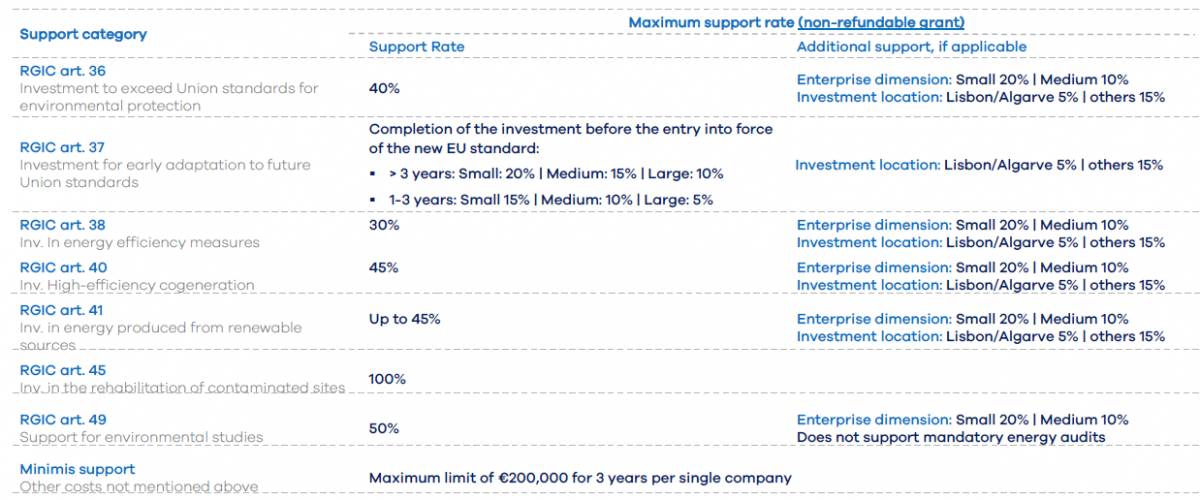 Projects will be evaluated according to emissions reduction, technical maturity, financial maturity and consumption reduction. Investments with greater technical maturity (TRL equal to or greater than 7) and with greater potential for impact in terms of decarbonization, will be privileged
In case of approval, projects must start within six months after the decision and need to have a maximum duration of 24 months. Expenses can be submitted until 31/12/2025.
With a budget of EUR 705 M, this call aims to support, at least, 300 decarbonization projects.